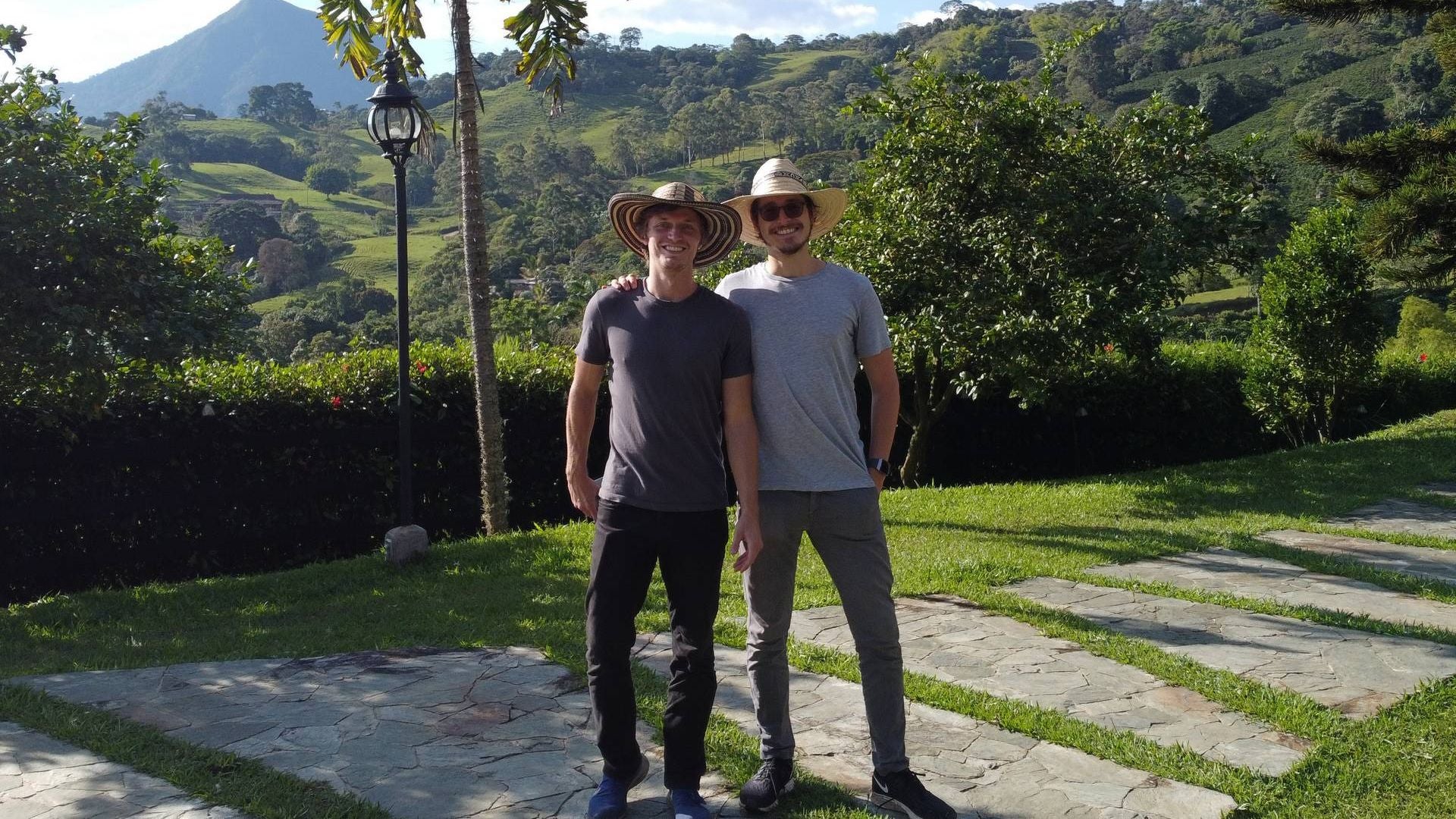 We may be crazy, but we have a mission: how our coffee adventure started.
We are Lucas and Vicente. You can call us crazy (we call ourselves that, too!), but back in April of 2021, we quit our cushy corporate jobs to go on a wild coffee adventure.
We left everything behind (literally), and moved to Colombia with our backpacks, a few changes of clothes, a GoPro, a drone, and a strong desire to support coffee farmers.
Yup, that's all we packed!
But, why??

Well, first, let's be honest.

We both realized that we wanted to do more than sit behind a desk. Our corporate jobs were comfortable, but we didn't feel like we were making the difference we wanted to make in the world (as cliché as it sounds…). We wanted to experience something new every day.

And we wanted to have an impact on people, not just on spreadsheets or word documents. We wanted to generate smiles. We wanted to improve other human beings' quality of life. And perhaps even change lives.

So that's why we moved to Colombia... to scour the country in search of specialty coffees that have a story to tell, with the goal of bringing those coffee beans to your cup in the most fair and transparent way possible.


Where we landed: Medellín - the City of Eternal Spring.
But let's pause for two seconds.
Why in the world did we choose specialty coffee?
Let's rewind back to the middle of the pandemic, when Lucas and I were spending the better part of our day practicing our best impression of the hunchback of Notre-Dame behind our laptops in our solitary home-offices.

Winter was harsh and our backs were hurting, so we decided to spend some time working remotely from Puerto Rico, the Isla del Encanto. It turns out that working under the sun made us both more productive at work and outside of work.

On a random weekend day, we decided to visit a coffee plantation on the island. Just for fun.

And we fell in love with coffee.

We were moved by how the lush, deep green of the arabica coffee bushes lined the steep hills of the Cordillera Central of Puerto Rico. The scene was grand, yet peaceful. Between the coffee trees, plantain trees grew gigantic fruit that would then be fried into typical patacones. Coffee harvesters, wearing their typical white jibaro hats, tended peacefully to the coffee trees, preparing the delicate plants for the rush of the harvest season. People were connected to the land, and the land was connected to them.

The green valleys of Puerto Rico.
We felt like we needed our own coffee plantation.

So we started looking. We googled plantations for sale, contacted real estate agents, and spoke to Boricua (that's how Puerto Ricans call themselves) coffee farmers. We roamed the countryside in our spare time and spoke to folks on the side of the road, asking them where to find coffee plantations.

Puerto Ricans are so friendly, we didn't have any issue in meeting real, local coffee farmers. And we made some friends along the way – Alfonso, Ariel, looking at you!

But, there was a big "but" (and I cannot lie).

As the lawyer that I am, and the financier that Lucas is, we both had to do our due diligence before taking the deep dive. We had to run numbers, assess risk, and decide if buying a coffee farm made financial sense. Boring, I know. But after all, we couldn't just quit our jobs and go bankrupt – what would our moms say?

So, we ran the numbers and… it didn't make sense! We did not understand how farmers could break even. It didn't work...

Commercial coffee is sold at ridiculously low prices. You may buy a cup of specialty coffee for over $8, but in most cases, the farmer isn't even getting 1% of that. That's not even 8 cents per cup... for producing the coffee beans that are the essence of that coffee cup. That's insane. That's unacceptable.

So we set out to change that. By streamlining the process and by paying farmers a fair price for their coffee, delivered directly to your home.
Some happy farmers we have set out to partner with!
A New Mission!

We may not be coffee farmers (few of the house plants I've ever owned survived more than a few months...), but we have other skills that can be used to partner with coffee farmers. Our US connections and legal and financial backgrounds enable us to put together a solid and fair supply chain that allows coffee farmers to receive their fair share.

And that's why we moved to Colombia, the land of arabica coffee. And that's how Who Is Coffee was born. A new company that opens a window into the lives of those who pour their blood, sweat and tears into the production of your favorite coffee. 

We hope that you will be part of the adventure with us.